>
Thank you to our sponsoring partners
Dairy Queen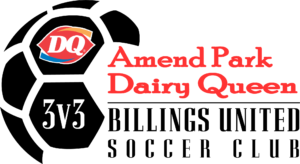 What is 3v3?
3v3 is an exciting fast paced game of soccer. With fewer players on the field, each player has more opportunities to touch the ball, improve skills, develop quick decision making, score more goals and have loads of FUN!
3v3 is open to male, female and co-ed teams. Parents, players or coaches can organize and manage 3v3 teams.
Create your own fun team name and uniform (T-shirt) design.
All teams are guaranteed a minimum of two games per night (Games are 2×12 min halves). Players must currently be registered with a spring soccer program for 2019/20 (Club, YSA, etc..) or an additional $12 fee will be applied. All games will be held at Amend Park on over 20 fields! (field map will be supplied). Each session will have game schedules and field numbers for easy navigation and convenience
Registration
Every participant registers as an individual. When they register they may indicate the name of the team they would like to participate with and the contact person for their team. If they do not have a team they may indicate the need to be placed on a team.
Additionally, we are asking that players who do sign up for a team have a primary contact provide a roster via the roster form link below.
Please direct all questions regarding 3v3 to Kevin at kevin.luse@billingsunited.net.
Who?
Youngers:
Players with a birth year between 2014-2006
Olders:
Players with a birth year between 2005-2001
Parents CO-ED
An opportunity for the parents to get out there & exhibit their skills. Teams must be Co-ed. No roster size limit but there must always be a member of each gender on the field. This is a recreational league open to adults of all abilities and experiences. We will begin to match up like teams following week 1 of the program as we do with the youth players
Cost