>


Billings United are proud to offer Soccer Schools programming and support the South Side Soccer Academy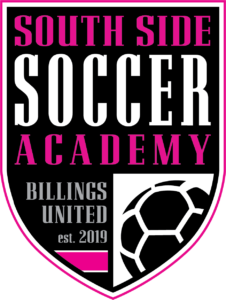 What is the South Side Academy?
South Side Academy began in Billings South Side Schools in with the goal to provide free soccer within South Side Billings Schools. The program is designed to provide a safe environment in which to experience the game in a developmentally appropriate manner.
Each player will receive a Billings United soccer Stickers
Session Structure
Sessions are 45 minutes in total and follow a 4 week soccer curriculum. Our Curriculum involves 4 key themes and principles of soccer so that players may experience and learn the game is its totality. Each week will touch on a different theme related to their favorite professional players. 
Sessions begin with a fun group 5-10 minute warm up before separating into their age groups for the remainder of the session. All the activities are designed to include all players and are run by professional trained and experienced coaching staff who pride themselves on education, professionalism and FUN. Players should expect to experience team work, problem solving and skill building while gaining exposure to positive role models in our coaching staff.  
The main goals of our sessions are to send children home enthusiastic about soccer having had a positive fun experience at our sessions. 
At the end of a 4-week session, all children will go home with a Billings United skills ball & stickers.
Cost
Soccer Schools programming cost $57 per 4 week program
Our South Side Academy is absolutely free to families and students of Title 1 Schools in Billings, MT.
Dates: 
Sept 14- Oct 14
Times: 
K-2 ~ 2:00-2:45 
3-6 ~ 3-3:45
Tots (2-5) ~ 4-4:30
Dates: 
Jan 6, 14, 20, 27
(MONDAYS)
Times: 
K-2 ~ 2:00-2:45 
3-6 ~ 3-3:45
Tots (2-5) ~ 4-4:30
Dates: 
April 2020 
Times: 
K-2 ~ 2:00-2:45 
3-6 ~ 3-3:45
Tots (2-5) ~ 4-4:30
Dates: 
April 15, 22, 29 & May 13
Times: 
K-3rd ~ 2:15pm – 3:00pm
4th-5th ~ 3:05pm – 3:50pm
Dates: 
May 12, 19, 26, June 2
(Wednesdays)
Times: 
K-3rd ~ 1:30pm-2:15pm
4th-5th ~ 2:15pm-3pm
Dates: 
May 3, 10, 17, 24 (Mondays)
Times: 
K-3rd ~ 2:30pm – 3:15pm
4th-5th ~ 3:15pm – 4:00pm
Thank you to our Community Supporters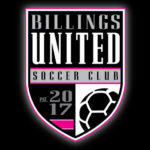 Are you interested in having a Schools Soccer Program at your school and bringing soccer to your community?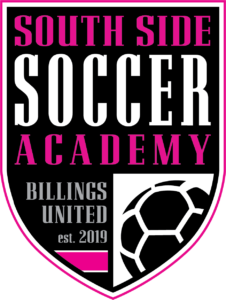 Contact us via info@billingsunited.net