Home
Looking for a flexible, recreational soccer program that focused on development, growth, and fun? Billings United is excited to announce the introduction of our new program, the Timbers Youth League.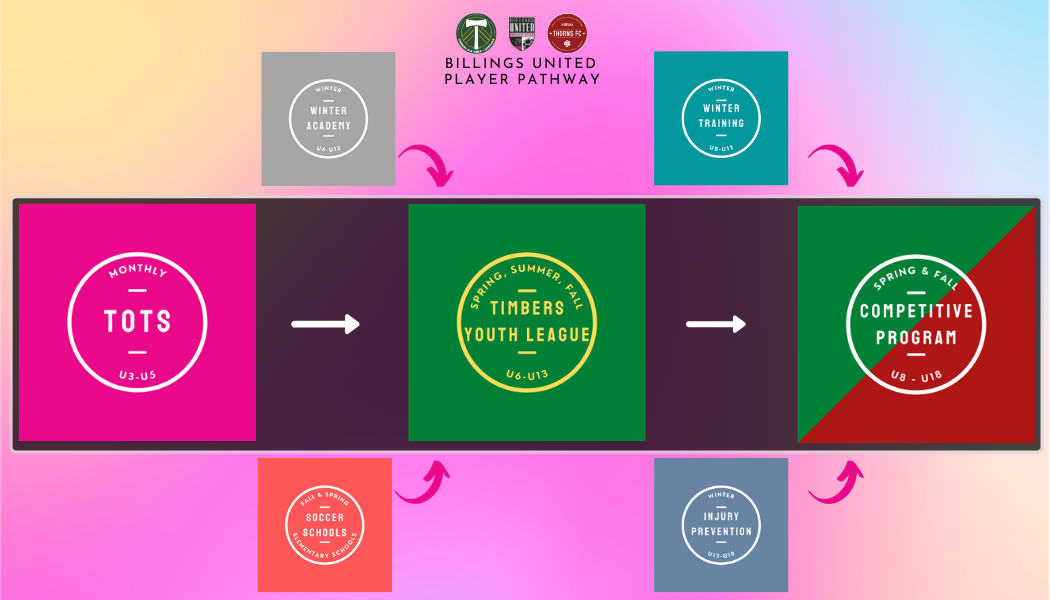 What is it?
The Timbers Youth League is a new program that will be focused on providing quality coaching to young players in the city of Billings, as well as a fun and developmental setting for players to enjoy the game of soccer. This program will give players access to quality and knowledgeable Billings United coaches, providing young players with opportunities to grow and learn the game. The Timbers Youth League includes weekly training sessions with Billings United coaches combined with weekly game days, so that players can showcase the skills they've learned. With no travel included, the Timbers Youth League is designed to provide the same player experience, without the travel and time commitments.
What is included?
Open to players aged 6 to 12, the Timbers Youth League includes:
Weekly training sessions with Billings United coaches.
Weekly game days
Jersey included in cost of program
Youth League info
Open to players of all experience and skill levels from within Billings as well as the surrounding areas.
Dates: 
Fall Program : 6-weeks, Sept 14th – Oct 2nd ($150) TUESDAYS 6-7, WEDNESDAYS 7-8PM
Spring Program : 6-weeks, Apr 20th – May 26th ($150)
Summer : 8-weeks, June 29th – Aug 18th ($185 )
**Summer programming will include Dairy Queen 3v3 Session 2, July 6-27th (Tuesdays). 3v3 is a parent managed, small sided games that is all about fun! A schedule will be generated and teams will report to their fields in their small groups and play their hearts out! The final 3 weeks will be 5v5 scrimmages at Amend Park.
Tuesday & Wednesday evenings. 
Players can sign up individually, or bring their own teams. Groups will be created by age. Whether your player is new to soccer, or a more experienced player, the Timbers Youth League is a great opportunity for all to develop technically and tactically as soccer players. Its a great stepping stone toward the Billings United Timbers & Thorns Competitive Program.